Product Update 2 for Sage MAS 90 and MAS 200 4.4 is slated for release before the end of this month (July 2010). Look for these new features:
Automatic Bank Reconciliation from financial information downloaded from your bank.
Bank Reconciliation added security - restrict who can make changes to the Current Balance field.
Bank Reconciliation - Enter checks, deposits and adjustments on the fly.
Positive Pay Export - Deter fraud by providing your bank with a list of checks that have been written on your account. This enhancement greatly improves on the old Sage Positive Pay because you now can design your own custom layouts.
Expanded comment field in Bank Reconciliation -  You can now use up to 2048 characters to track information related to why an adjustment was made.
ACH for Accounts Payable - Stop writing checks! Create a standard file that you can transmit to your bank which holds your payment data. Our clients who use this love it. Also an EXCELLENT solution if you have many remote employees who you distribute expense checks to via Accounts Payable. Definitely worth a look.
Once you're using ACH for Accounts Payable you'll want to add in Paperless Office stubs, checks and extended stubs so that your check process is totally paperless!
Product Update Pre-Installation Scan - This will be a new addition to your family of MAS software utilities and can detect potential data issues prior to updating to new release levels.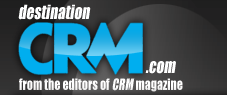 DestinationCRM provides a great summary of Gartner's insights into successful CRM deployments. While they mention firms spending $100 million on CRM software deployments, the principles outlined really apply for Customer Relationship Management at the SMB level as well.
The 25-page report lists three key findings:

1. The process of creating a CRM strategy has three steps: Set the destination, audit the current situation, and map the journey to the destination.

Step 1 — Set the Destination: Managers are urged to examine the various definitions of CRM, creating their own to gain buy-in and cohesiveness from those involved in the initiative. A vision for CRM that identifies why the organization wants the initiative and that defines its desired results should be established immediately. Teams that drive the initiative should be composed of three key roles: a sponsor, facilitator and project/program manager.
Step 2 — Audit the Current Situation: Beginning with a full assessment of past CRM initiatives, participants should be asked what they thought needed to be changed in order to understand what did/did not work. The report also states that "assumptions, business case, and goals of past projects remain valid, even if the execution was not as successful as hoped." Readers are also warned to beware shortcuts in information gathering. "Seek information from external sources first, and weight customer and consumer feedback highest."
Step 3 — Map the Journey: Identify the steps to achieve the vision. Core value propositions for customers and motivating factors for customer loyalty should be classified. The company should be revalued on the potential of its customer base rather than on current revenue or profits. Processes and systems that can be altered rapidly and dynamically as individual customers move among segments should be built. Three to five top-line objectives for CRM initiatives should be established — more than five is considered unnecessary. The initiative should be communicated daily to sponsors and executives.

2. A CRM strategy cannot be developed in isolation. It must be relevant and linked to the overall corporate strategy, and it must build on existing sales or marketing strategies that are already in use.

3. CRM initiatives have eight aspects in common: vision, strategy, customer experience, organizational collaboration, processes, customer information, technology, and metrics. Achievement of some of these aspects is not enough to ensure CRM success, which hinges on covering all eight aspects.
I think the challenge for most SMB Sales Managers and Owners is to allocate the time and develop the necessary process mapping skills to complete these steps. Of course, that's where IncorTech and our Client Advantage Discovery Engagement can help. Interested in learning more? Give us a call at 949-309-5099 or Email for more information.
A very nice article written by Austin Merritt, Vice President of the software buyer's guide Software Advice has been posted covering the Sage ERP products with several visual aides for seeing how they fit across industries and sizes of businesses. It's a good primer on one of the largest makers of business software for the SMB market.

DestinationCRM.com provides us with an choice excerpt from CRM thought leader Paul Greenberg's CRM At The Speed of Light, now in it's 4th edition.
Here is one of my favorite observations by Greenberg:
What the social customer is expecting is a human being who's not selling products at them or just following a particular path, but providing a relationship that will be mutually beneficial.
For the salesperson, this experience will be the purchase of something by the customer. For the customer, it will be an experience that provides her with what she needs to solve a part of her personal agenda—be it in a B2B environment (such as meeting an equipment need) or in a B2C environment (purchasing a family vacation package). But the expectation goes beyond that. The customer is looking to have a relationship—if not with the salesperson then with the company the salesperson represents. Skeptical? Think about your own relationship to Amazon.com, and why you shop there: It's convenient, and the site "knows" you.
This change in customer-salesperson interactions has certainly occurred in my industry, for those companies who are prepared to embrace it at least. How has this affected your industry?
Category : CRM | Marketing
Increase Productivity. Streamline workflows. Work the way you do.
From Core Financials and Project Management to Distribution and Manufacturing, Sage MAS 90 and 200 4.4 is loaded with features. You'll be able to work even more efficiently the way you want to with additional features and enhancements focused on workflow and business process — especially in the inventory, purchase order, bill of materials and bar code areas of the system. Included in Sage MAS 90 and 200 version 4.4 are some of the most requested customer enhancements and usability improvements.
Highlights include:
Upgrade more conveniently with significantly less downtime – Parallel Migration will allow you to continue operating your business on your existing Sage MAS 90 or 200 system while your new 4.4 system is getting prepared and tested
Increase productivity and improve accuracy using more information in expanded Customer and Item Number fields to include unique information using 20 alphanumeric characters for Customer numbers and 30 for Item numbers
Simplify the process of applying customizations to your system and reduce your overall costs with customization that survive future upgrades
Dual grid streamlines your data entry throughout core Accounting, Distribution, and Bill of Materials
Increase your productivity by accessing your data with fewer clicks
Personalize your reports, views and other options throughout your system
Access information easier using the new Business Desktop for the Sage MAS 90 and 200 Community site, training, support, and more
Streamline your workflows to enable more efficient physical counts, display your system's expected quantities so only the variances require updating
Increased your speed and accuracy of data collection using bar code enhancements
Plus over 30 usability enhancements — and additional new features coming your way every few months to add value through the year!
MAS 90 and MAS 200 4.4 New Features
MAS 90 and MAS 200 4.4 Pre-Release Guide