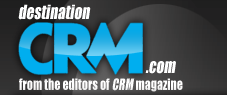 DestinationCRM provides a great summary of Gartner's insights into successful CRM deployments. While they mention firms spending $100 million on CRM software deployments, the principles outlined really apply for Customer Relationship Management at the SMB level as well.
The 25-page report lists three key findings:

1. The process of creating a CRM strategy has three steps: Set the destination, audit the current situation, and map the journey to the destination.

Step 1 — Set the Destination: Managers are urged to examine the various definitions of CRM, creating their own to gain buy-in and cohesiveness from those involved in the initiative. A vision for CRM that identifies why the organization wants the initiative and that defines its desired results should be established immediately. Teams that drive the initiative should be composed of three key roles: a sponsor, facilitator and project/program manager.
Step 2 — Audit the Current Situation: Beginning with a full assessment of past CRM initiatives, participants should be asked what they thought needed to be changed in order to understand what did/did not work. The report also states that "assumptions, business case, and goals of past projects remain valid, even if the execution was not as successful as hoped." Readers are also warned to beware shortcuts in information gathering. "Seek information from external sources first, and weight customer and consumer feedback highest."
Step 3 — Map the Journey: Identify the steps to achieve the vision. Core value propositions for customers and motivating factors for customer loyalty should be classified. The company should be revalued on the potential of its customer base rather than on current revenue or profits. Processes and systems that can be altered rapidly and dynamically as individual customers move among segments should be built. Three to five top-line objectives for CRM initiatives should be established — more than five is considered unnecessary. The initiative should be communicated daily to sponsors and executives.

2. A CRM strategy cannot be developed in isolation. It must be relevant and linked to the overall corporate strategy, and it must build on existing sales or marketing strategies that are already in use.

3. CRM initiatives have eight aspects in common: vision, strategy, customer experience, organizational collaboration, processes, customer information, technology, and metrics. Achievement of some of these aspects is not enough to ensure CRM success, which hinges on covering all eight aspects.
I think the challenge for most SMB Sales Managers and Owners is to allocate the time and develop the necessary process mapping skills to complete these steps. Of course, that's where IncorTech and our Client Advantage Discovery Engagement can help. Interested in learning more? Give us a call at 949-309-5099 or Email for more information.
DISCLAIMER: The content provided in this article is not warranted or guaranteed by IncorTech. The content provided is intended for entertainment and/or educational purposes in order to introduce to the reader key ideas, concepts, and/or product reviews. As such it is incumbent upon the reader to employ real-world tactics for security and implementation of best practices. We are not liable for any negative consequences that may result from implementing any information covered in our articles or tutorials.
Category : CRM